CAMT: Pelvis, Hip & Sacrum
Advanced Myofascial Techniques Workshop Series
With Til Luchau and/or the Advanced-Trainings.com Faculty.
Pelvis, Hip & Sacrum
Learn advanced myofascial techniques that dramatically improve your ability to work with hip, pelvic, and thigh pain; gait and sacroiliac issues; sciatica; and more.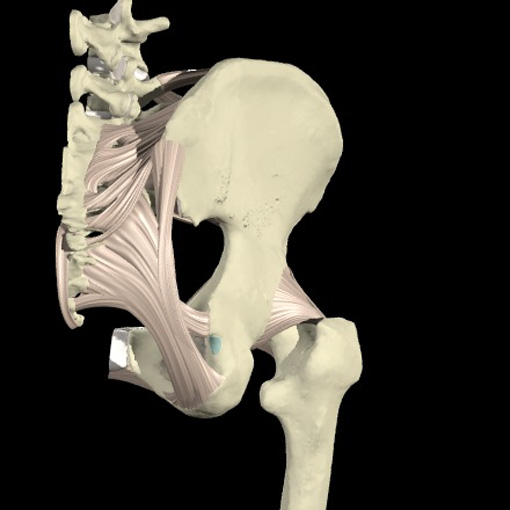 ©Primal Pictures, used by permission.
 Attendance at this series lead to optional Certification in Advanced Myofascial Techniques (CAMT).  Separate enrollment required: click here for more information.     
The five principle Advanced Myofascial Techniques courses for CAMT offered in the Chicagoland area in 2017/2018 include:
In addition to in-person demonstrations and individualized hands-on supervision, our instructors use state-of-the-art instructional materials, including Primal Pictures' 3D Interactive Anatomy software.This popular series of seminars presents practicing somatic therapists and qualified students with advanced and little-known myofascial techniques which can be easily incorporated into existing personal styles. Drawing on a wide range of disciplines, the focus is on unusual, interesting, and fresh approaches that will both expand technique repertoire and inspire creativity and innovation.
Potential topics include:
• Specific techniques for common structural and functional complaints
• Relieving pain, restoring lost function, and getting lasting results
• Utilizing both active and passive movement to enhance effectiveness
• Precision in working with specific tissue types and body layers
• Combining indirect or subtle work with deep or direct work
• Tracking subtle psychophysiological and nervous system responses
• Ways to work sensitively, safely, and comfortably at very deep levels.
Class size and student/teacher ratio are kept small for maximum personal attention.  Participants also receive a detailed course manual/note organizer with photos of techniques covered.  Videos of instructor demonstrations are also available for post-workshop practice and review. Workshop fee includes the option of a free listing in the Advanced Myofascial Techniques on-line practitioner's directory.  Participants will be sent a brief list of anatomical structures to review prior to the course or go to www.advanced-trainings.com/anatreview.html to see that list now.
The Advanced Myofascial Techniques workshop series presents a comprehensive system for working with the body in its entirety, encompassing over 20 session sequences and more than 200 techniques, tests, and procedures. Workshops in the series may be taken individually, or combined in any order.
Prerequisite: This course is limited to trained practitioners and students of hands-on body therapies (for example, Bodyworkers, Physical Therapists, Rolfers, Chiropractors, Structural Integration Practitioners, Massage Therapists, Neuro-Muscular Therapists, and other somatic practitioners). Students of these disciplines with at least 250 hours of hands-on training and/or instructor approval may also be accepted. Feel free to contact us directly about prerequisites or course content.
Each day provides 8 NCBTMB, AMTA, ABMP, IASI, and State Board CEU's.   Approved for Advanced Myofascial Certification (CAMT) credits.  These workshops are also approved for CE/CME credits for Physical Therapists, Physical Therapy Assistants, Certified Rolfers, and many other types of credit (check with your agency for any special conditions or type of credit earned).   Click here for a summary of CE approvals.
Date
April 9-10, 2017
Location
MRSI Center
616 N. North Court Suite 250
Palatine,  IL  60067
Times
9:00am – 5:30pm Monday, 9:00am-4:30 Tuesday
Teacher
Til Luchau
Credits
16 CEs (NCBTMB, AMTA, ABMP, IASI)
Tuition
$378/$338 Early Bird
Group Discounts
 contact sponsor for details and promotional codes
For more information
Click Here